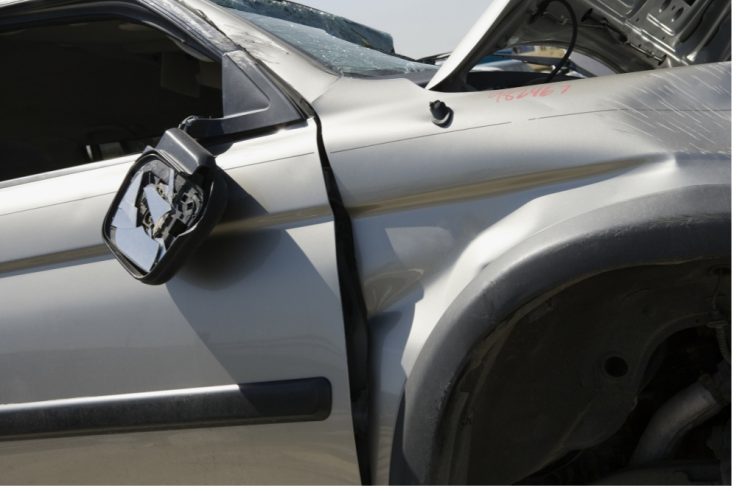 Even experienced, safe drivers will sometimes need to have their automobiles repaired, because there's no way to prevent damage which might occur when the other guy makes a mistake and collides with you. Your vehicle might even sustain collision damages when it's safely parked somewhere in a parking lot or along the roadway.
Fortunately, all of these types of collision damages can be efficiently repaired by a competent collision shop, and your vehicle can be restored to its original sparkling condition. Below are listed some of the most common types of auto body damage, and how these are handled by a good collision shop.
Simple Dents and Dings
These are generally caused by flying objects like small pebbles hitting your vehicle while you're driving. However, even a small-sized pebble can leave a pretty good-sized dent if you're traveling at a rapid rate of speed. In some cases where the paint isn't affected, paintless dent removal can be accomplished.
For dents that are larger, it will be necessary to drill a small hole adjacent to the dent, and to insert a special tool which can be used to pull the dent out. Then the hole will be completely filled up and repainted.
Paint Scratches
Most paint scratches occur in parking lots where a car next to yours scrapes your vehicle, either when pulling in or pulling out. Depending on how big the scratch is or how long it is, a number of different techniques might be used to fix the scratch. Small scratches might be eliminated by simple rubbing, but for larger scratches, it will probably be necessary to use body filler and computer-matched painting so as to eliminate the scratch.
Damages Caused by the Weather
When you think about it, most vehicles spend at least half their time out in the open, so it's not surprising that the weather can cause so many different kinds of damage to your car. Even the hot sun can cause damage to the surface of your vehicle, but it's more common to have damage from rain, snowy winters, storms, and hail, to cause more severe damage.
Over a long period of time, whether elements can combine to dull the paint job on a vehicle, and they might also cause rust to form around the edges. Some of these types of damage can be corrected by sanding and repainting the affected areas. In the case of rust which has gotten a little out of control, the affected area will have to be completely cut out, replaced with brand-new metal, and then repainted to match the color of the vehicle.
Direct Collision Damages
Damage that your vehicle sustains as a result of some kind of collision with another vehicle will usually be the most severe type of damage you will encounter. In some cases, there can even be extreme structural damage which requires extensive repair work in order to restore the vehicle to its original condition. At the least, any collision will always cause at least a few dents or dings to appear in your vehicle surface, and these will have to be treated on a case-by-case basis.
Unless you just got tapped by another vehicle, the damage caused is likely to be much more severe than dents though. Whenever the frame of your vehicle gets bent or twisted, it can be an extremely dangerous situation, because that will have a major impact on the structural integrity of your vehicle. In cases like this, it will often be necessary to use computer-aided machines that can detect the extent of any damage, and which can assist in pulling the frame back into its original position.
Dents that are both large and small can be pulled out using the technique described above, and when all the frame and structural damage has been repaired, it will be necessary to completely repaint the vehicle. In situations where severe damage has been done to your vehicle, it will also be necessary to run a computer check of operational systems to make sure that the vehicle is still functional.
Some collision damages are not immediately visible to the naked eye, and can only be detected by computer analysis and actual test driving. When all issues have been detected and repaired, the damaged vehicle would then be restored to something close to its original condition, and it will be virtually impossible to tell that it was ever involved in a collision.
Collision Coverage
If not for collision insurance coverage, the cost of repairing damages to your vehicle might well be unaffordable. Collision coverage is applicable whether you collide with another car, or whether you run into some kind of inanimate objects like a telephone pole or a fence. In most states, having to purchase collision coverage on your car is not required, but it's a very good idea to have this type of coverage because any major accident could literally put your vehicle out of commission.
If you had no insurance coverage to handle the repairs which are necessary, you would simply be minus your vehicle with nothing to show for it. Even though collision coverage might be quite affordable, it's well worth it when you consider the alternative, which is that you probably couldn't afford to pay for the work necessary to restore your vehicle.
Full-service Collision Work in Sterling Heights and Warren, MI 
When we say that Showcase Collision & Auto Repair is a full-service collision and repair shop, we mean that virtually every kind of damage or problem your vehicle might have can be handled right here. Our two central locations in Sterling Heights and Warren, MI provide a broad service area for those in need of our services.
We can provide all the normal auto repair services for your vehicle, as well as minor and major auto collision repair, hail and storm damage repair, refinishing, windshield and glass replacement, detailing, and complete restoration if needed.
Contact us for all your automotive needs, and let us show you why we are the best full-service auto repair shop in Michigan.