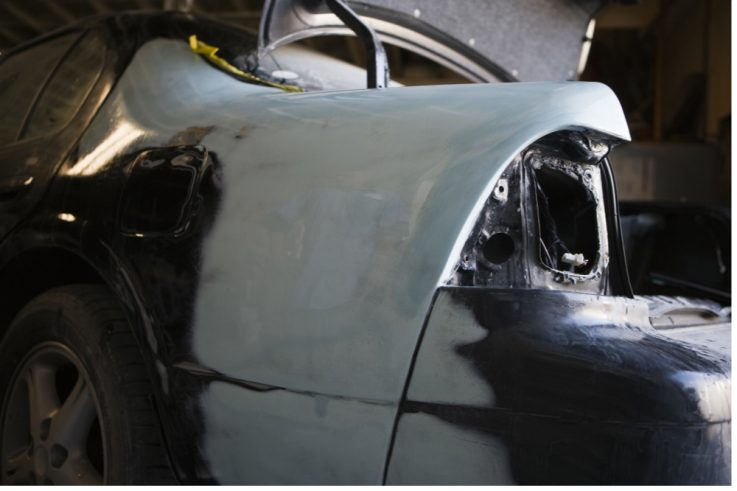 There are nearly two million rear-end collisions on the roadways of this country every year, which makes them the most common type of car crash to occur. Some of these collisions can be extremely serious and result in injuries to passengers of both cars, while other collisions are relatively minor and cause minimal damage.
However, even these relatively minor collisions always have to be thoroughly checked out, because autobody damage is not always visible to the naked eye. That makes it very important to check out your autobody after any kind of collision has taken place, so that you can have confidence that there is no internal damage in addition to the visible structural damage.
Autobody Alignment Issues
One very common type of damage that occurs during a rear-end collision is problems with alignment. When you start to notice that your vehicle is pulling to one side of the road or the other as you drive, it might very well be that you have incurred alignment problems. You may also have an alignment problem if you notice that the vehicle vibrates, or that you have noisy steering during operation.
Check to make sure that your tires don't wear unevenly or that they squeal while you drive. In situations where vehicle alignment is even slightly off, it can put a lot more stress on the suspension, tires, and steering. This will cause them to wear out much quicker than they normally would, and it can also cause some very definite threats to safety. If you have any reason to suspect a rear-end misalignment, be sure to have it checked out right away before it becomes a safety issue while driving.
Engine Damage
Automobile engines are extremely delicate and complex, and if you get in a rear-end collision, there will always be the potential to impact the performance of your engine. If you find that the check engine light comes on after a rear-end collision, you should always have it checked out immediately by your repair person. It's also possible for a rear-end collision impact to damage the drivetrain of your car.
The force of the impact can thrust the exhaust system forward, and that can cause damage to the catalytic converter, muffler, engine mounts, and exhaust manifold. It's also true that all-wheel-drive vehicles and rear-wheel drive vehicles have transmission components in the rear of the vehicle, and these can become damaged during a collision.
Check for signs that your transmission may have been damaged by monitoring any signs of leaking transmission fluid, or any issues you notice while shifting or accelerating.
Suspension Problems
The suspension system of a car has an important role in keeping the vehicle under control and delivering a smooth ride for occupants. Basically, the suspension system is responsible for maximizing traction between the road and your tires, permitting the operator to efficiently handle the vehicle. It has the effect of protecting passengers in the vehicle itself and managing the impact of road conditions.
Rear-end collisions will often cause frame damage that can apply additional stress to the suspension system, causing the struts and other parts to become worn more quickly. Any resulting misalignment can also apply more pressure on the components of your suspension system. Whenever the suspension is not working properly, you'll notice that the ride is a lot rougher and that the car is harder to control. If you don't take care of this promptly, it could even lead to safety issues.
Electrical Issues
Modern vehicles are far more technologically advanced than they ever were in the past. Even a minor collision can cause loosened wires somewhere throughout your vehicle, e.g. brake lights, taillights, or the battery.
Since all of these components are vital to maintaining road safety, it's extremely important to make sure that they stay intact, especially in the aftermath of a rear-end collision. In most cases, it's necessary to have a technician thoroughly examine the electrical components of your automobile to make sure that no damage has occurred.
Trunk Damage
Trunk damage will generally not affect vehicle operation, but it should not be overlooked when you're assessing overall damage to your autobody after a collision. It's entirely possible that issues with your trunk can cause safety hazards, and it will also lower the value of your vehicle. Your trunk should always be able to open and close easily, and it should be possible to securely lock the trunk when necessary.
Anytime you're driving down the road, a damaged trunk might pop open and interfere with your view of traffic behind you. It might also startle a driver behind you and trigger another rear-end collision. Even though it might not seem like a high risk, you should always check out your trunk to be sure that no damage occurred there.
What you should look for immediately after a rear-end collision
In the aftermath of a rear-end collision, you should eyeball any problems by walking around the entire vehicle to see what's obviously visible. The first thing on your checklist should be to inspect the trunk and the door gaps to make sure they're still even, and that they open and close with no issues. Next, you should check the taillights and the rear bumper to make sure they don't have damages, and that they still fit well on the vehicle.
Compare the left side and the right side to make sure that there are no differences, and there are no gaps between components. After this, check the vehicle roof and the quarter panels, especially if the rear-end collision was fairly severe. Eyeballing the autobody damage after a rear-end collision should give you an idea about what you'll face when you send your car in for repairs.
However, you should not limit your understanding of the damage to what you can personally see. It's always best to have a professional do a thorough examination of your vehicle after a collision because there are always issues that remain invisible to the naked eye or the untrained eye. Having a skilled technician inspect your vehicle's autobody will always be your best bet in the aftermath of a collision.