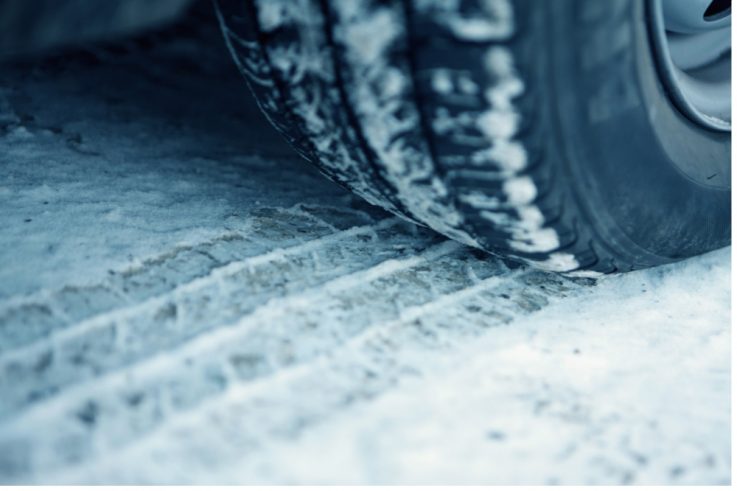 If you're thinking of visiting relatives during the holidays, especially those who are out-of-state and involve a longer journey, you'll want to be sure that your automobile is ready for the trip. The last thing you want to mar your holiday experience is to have a breakdown either on the way to your relatives' location or on the return trip home. A few simple car maintenance checks can avoid many of the mishaps which might occur while driving and provide you with some peace of mind about getting there and back safely.
Car Battery
In cold weather, car batteries draw more energy and that means your battery is more likely to die during winter than during any other season of the year. Most repair shops will check your battery for free and tell you whether or not it needs to be replaced. If you have a membership in a reputable auto repair shop, this would be a good way to have your battery strength tested, without having it cost you a lot of money.
Tires
Your vehicle's tires are some of the most important features of the entire automobile, and of course, they're also among the most expensive. You'll not only want to check your tires for safety, but you'll want to be sure they are properly inflated so you get reasonable gas mileage on your journey. The first thing you should do regarding your tires is to give them a good visual check to make sure you don't see signs of wear on any particular portion of the tire.
Most states require you to have at least 2/32 of an inch of tread on your tires, and you can check the wear bars which are on your tires for this. These wear bars will warn you whether or not your tires have the required 2/32 of an inch of tread. If you can't determine this from checking the wear bars, you can conduct a simple test on your own which will accomplish the same thing. If you place a penny into some of the tread grooves across the tire, and you can see that part of Lincoln's head is covered by the tread, then you have the necessary 2/32 of an inch of tread remaining.
Lastly, make sure to measure the air pressure in your tires, ensuring that they are inflated to the manufacturer's specifications. A simple tire gauge will tell you what the actual tire pressure is, and whether or not you need to add air to any of the tires. If you find that any of your tires are drastically low on air, there may be a problem with that particular tire which you should have checked out by a car maintenance expert.
Oil Level
Your car's oil must be changed regularly on any car maintenance check because if you overlook this, there's a potential that some serious damage could be caused to your engine, especially if impurities have somehow gotten into the oil. It's also true that the longer you drive, the more your oil will break down, and that will lower its viscosity. When oil loses its viscosity, it's less capable of lubricating your engine, and that means parts of the engine might come in direct contact with each other and cause friction or wear.
If your engine becomes worn because of improper lubrication, an expensive engine repair process may be needed to restore it. When you had your last oil change, you would probably have been given some indicator of when the next oil change should be conducted, usually a certain number of miles, possibly between 3,000 and 6,000 miles.
If you know you have traveled those number of miles since your last oil change, you should definitely have the oil changed so that any viscosity breakdown can be accounted for and fresh oil can be emplaced. You should also check your oil level before starting on your journey, to make sure that you have adequate oil for engine lubrication. To do this, simply take the dipstick out of the oil reservoir and make sure that the oil level indicates a safe level on the stick.
Coolant
You might not think your car needs coolant during the wintertime, but your car will get just as hot driving for several hours in the wintertime as it would during the summertime. If your car doesn't have adequate coolant, it can cause damage to the head gasket or the engine block, and in a worst-case scenario, it could even cause the engine to seize up. Make sure you're using the right coolant for your vehicle so that it doesn't negatively impact your engine. You can find out exactly which type of coolant is best for your vehicle by consulting your owners manual, and if you lack this, you can usually find out by consulting your auto manufacturer's website.
Miscellaneous Checks
It's a good idea to make sure that your windshield wipers are operating well, in case you get caught in a rainstorm and your visibility is affected. Navigating through a heavy downpour is the wrong time to find out that your wipers are not effectively clearing your windshield. If you have any unexplained noises or smells associated with your vehicle, you should have them checked out by car maintenance professionals. Any rattles or other sounds that might indicate loose objects or things that are insecure should be dealt with before any long journey.
If you're driving through an area, or to a location that is typically very wintry, you should make sure that you're prepared for winter travel. This means you should have a scraper that will remove ice from your windows and a snow brush which can remove snow from windows and other parts of the car.
You might also want to include a couple of blankets which could be extremely important in the case of a car breakdown, or in case you get stuck somewhere in a snowstorm and are unable to move. This happens fairly often in the Northeast section of the country, and travelers have been known to be stranded in snowstorms, with no possibility of moving forward or of receiving assistance. The better prepared you are to make a journey during the holidays, the less likely it is that you will experience some traumatic event that will put a damper on everyone's spirits.