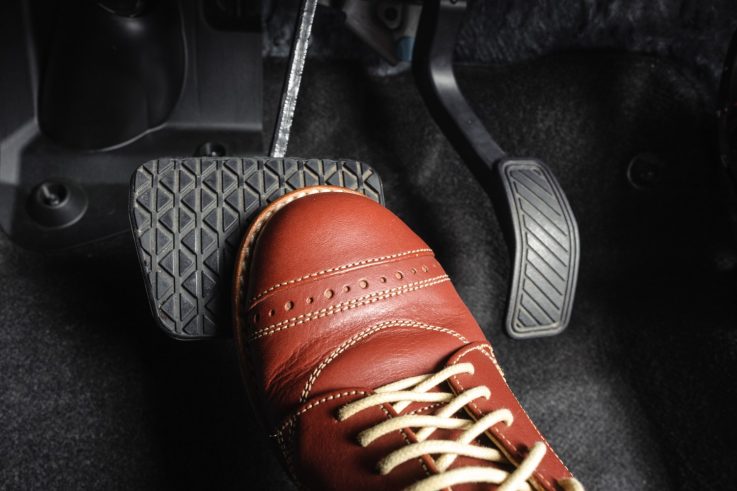 It shouldn't be surprising that your vehicle's brakes wear out so often, given the fact that they are one of the most used systems in your entire vehicle. The braking system is also one of the most important systems on your vehicle because its functionality can either be life-saving or life-threatening in actual usage. Almost everyone has been obliged at one time or another to suddenly slam on the brakes to prevent a collision with some object, either wildlife, property, or even a pedestrian. Those are the times when you need your brakes to be functioning perfectly.
Anything less than that could result in serious or fatal injuries to the vehicle occupants, and to anyone else who might be involved. Therefore, it will be to your advantage to be aware of some of the most common problems occurring with your brakes. Even if you don't intend to investigate or fix the problem yourself, it helps to identify the problem in the first place, so you can get the appropriate professional help. In this article, we'll discuss some of the most common brake problems, so that you'll know whether you need brake replacement, new brakes, or just some specialized brake service.
Brakes hanging up (not disengaging)
Sometimes breaks fail to completely disengage when your foot is removed from the brake pedal. When this happens, you may notice a smell like something is burning, which comes from all the heat that is generated by the brakes when they fail to disengage. Of course, it is completely unsafe to drive while the brakes are dragging or hung up like this, and it will definitely cause more damage to the brakes if you drive with them while engaged, because they'll wear out much much faster. When brakes become hung up like this and do not disengage, it's usually because the rotor or drum is rusted, the master cylinder return hole is clogged, the brake line has become pinched, the parking brake cable has seized up, or the calipers or pads have seized up.
Of these, the most likely cause is having the calipers or pads seize up. This can occur regardless of the age of your vehicle or its brakes and is often triggered by salt used on winter roads, that accumulates on the brake pads. Any parking brakes which are cable-operated might jam up in the same way, and will generally require the parking brake cable to be replaced. For the most part, this can be prevented by avoiding driving through deep puddles, as well as areas that are heavily salted during the wintertime. Of course, this may not always be possible, so after you have driven through such an area, it would be wise to clean the underside of the car as well as the wheels. This will prevent the possibility of a rust buildup, which will definitely degrade the brake system.
Shudder after repeated braking
This usually occurs when the rotors on your brakes are either bent or warped, which happens sometimes from a buildup of localized material on the surface of the rotors. This can be overcome by resurfacing the rotors and grinding them flat and smooth. However, this option is only available if the problem has not deteriorated to a severe point where resurfacing will not solve the problem. If rotors have become warped or bent because of overheating, this cannot be fixed by grinding the surface flat again, since the rotors will simply become warped again as soon as they are exposed to heat.
Hard pedal/Soft pedal
Sometimes you'll notice poor performance from your brakes, where you might feel the brake pedal is either too easy or too difficult to depress normally. In the case of a soft pedal, the culprit could be any one of the following:
failed wheel bearing
overheated brake fluid
failed master cylinder
damaged wheel cylinders or calipers
blown brake line
low level of brake fluid
air included in the brake fluid
bad residual valve
fluid leak in the system.
Of these, one of the most common issues comes in the area of the fluid level in the master cylinder reservoir. Any leak here might cause the fluid level to be so low that the failsafe braking system is also ineffective. When you notice a low fluid level, it will likely be because the pads are experiencing excessive friction, or the drums could be completely worn out. Sometimes brake hydraulics will get air in the lines after service has been performed, and it's also possible for a bad master cylinder to inject air into the line. A bad wheel bearing can cause the brake pads to be pushed back into the caliper too far.
When you notice that it takes a great deal more pressure to bring your car to a stop than it normally would, this is a hard pedal indication on your brake system. Most of the time when you experience a hard pedal situation it will be due to a failure in the power boost system. Since the power booster uses an engine vacuum to help apply the brakes, it is a standard feature in most modern cars. If this booster or a vacuum hose becomes bad, it can cause a leak that will be expressed as rough engine idling or poor brake boost. Here are the likeliest causes of a hard pedal indication:
bad check valve
worn-out brake pads
seized up calipers
failed power booster
leak in the vacuum hose
complete collapse of the vacuum hose.
Squealing noise when braking
The annoying high-pitched sound which comes from your brakes sometimes is intended to alert you that you only have about 25% of your brake pad left intact. Of course, your brakes will also squeal more loudly when you run through a wet or glazed patch on the road, or you're in stop-and-go traffic. In this case, depressing the brakes emphatically will generally clean off the surfaces and return your brakes to normal. There are also some factors that can trigger excessive noise because brake pads sometimes resonate in the same range they vibrate at during usage. This is because of different manufacturer tolerances, unexpected wear factors, different levels of friction with materials, and several other causes. You can generally overcome this by applying an anti-squeal paste, which raises the resonance outside the vibration range.
Sinking pedal
You may notice this situation when stopped at a traffic light, and you observe that the pedal is slowly sinking to the floor when your foot rests on it. This is often because a master cylinder is beginning to fail, or because somewhere in the system you have a leak. If you find that there are no leaks after investigation, the most likely cause of the sinking pedal issue is that one of the rubber seals on the master cylinder is leaking and allowing fluid to creep in. For this situation, and all others that are abnormal, you should have your brake system checked out by a professional. When your life and the lives of your passengers depend on great brake performance, you simply must have your brakes in good working order.